This is such a good recipe for split pea soup. I think I posted the recipe here once but always have trouble finding anything using the search function. Anyway, here it is again.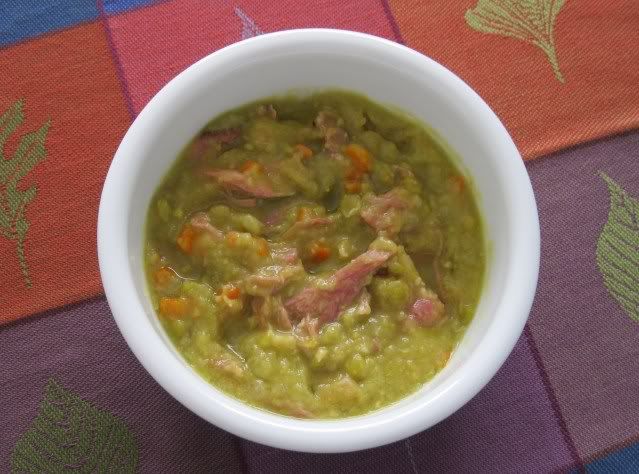 ]
Split Pea Soup With Ham
(Serves 6)
1 pound dried green split peas
8 cups chicken stock (preferably low sodium)
2 cups water
1 meaty ham bone or 2 smoked ham hocks (See *Note below)
2 ribs celery, leaves included, diced
3 T. chopped fresh Italian parsley
1/2 tsp. crumbled dried tarragon leaves (optional)
3-4 T. butter
1 cup diced peeled carrots
1 cup diced onion
1 leek (white part only), rinsed and sliced
1 cup slivered fresh spinach leaves (optional)
2 T. dry sherry (optional)
1/2 tsp. pepper
Rinse peas in a strainer and then combine them with the stock and water in a large soup pot. Bring to a boil.
Add the ham bone, celery, 1 T. of parsley and tarragon. Reduce the heat to medium-low and simmer, partially covered, stirring occasionally, for about 1 hour.
Melt butter in saucepan over medium-low heat. Add carrots, onion and leek. Cook until veggies are wilted, about 10 minutes. Add them to the soup pot, along with the spinach. Simmer, partially covered, about 1 hour.
Remove soup from heat. Remove ham bone and shred meat from bone, removing any excess fat. Return meat to the soup.
Add sherry, pepper, and remaining 2 T. parsley. Taste for seasoning; salt is usually not needed due to the salt in the ham. Heat through and serve immediately.
*Note: I buy a smoked ham hock at Stater Bros. for this...usually about 1.65 to 1.75 lbs.