Passover Dessert:
This recipe was supposed to be a chocolate tart topped with caramel. As I was making it I realized how sweet and rich it was going to be so I changed it up.
Original recipe:
Chocolate-Pecan Tart with Caramel for Passover
2 cups pecans to be processed to a fine flour but short of a butter, will be a tart shell.
1/4 cup golden brown sugar packed
1/4 teaspoon cinnamon ground
2 tablespoons butter unsalted room temp
1/2 cup whipping cream
12 ounces bittersweet chocolate or semisweet, chopped
SAUCE
1/2 cup unsalted butter
1 cup+3 T sugar
2 cups whipping cream
FOR TART: Preheat oven to 325 degrees. Blend first 3 ingredients in food processor until nuts are finely ground. Add butter and blend until well combined. Press nuts mixture into bottom and up the sides of 9-inch-diameter spring form tart pan with removable bottom. Bake until golden brown, about 20 minutes. Transfer to rack and cool.
Bring whipping cream to simmer in heavy medium saucepan. Add chocolate and stir until melted and smooth. Pour chocolate mixture into crust. Cover and refrigerate until firm, about 2 hours.
(Can be prepared 2 days ahead)
FOR SAUCE: Melt butter in heavy medium skillet over medium- high heat. Add sugar and cook until deep golden brown, whisking frequently, about 10 minutes (mixture will be grainy). Add the cream and boil until sauce is reduced to 2 1/2 cups, whisking occasionally, about 10 minutes. Cool slightly (can be prepared 2 days ahead. Cover and refrigerate. Before serving, rewarm sauce over medium heat, stirring frequently.)
Remove tart pan bottom. Cut tart into wedges and transfer to plates. Spoon warm sauce around tart wedges. Serves 12.
Crushing the pecans with the brown sugar and butter:
Pressing the pecan mixture in to the pan. I used my measuring cup to press it up against the sides before doing the bottom. It worked perfectly: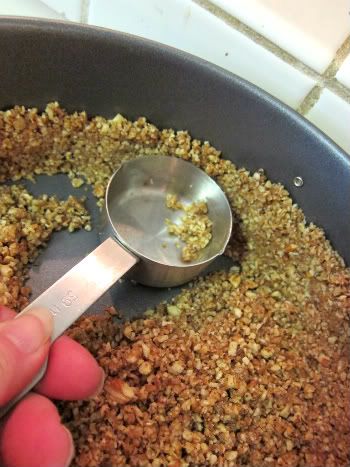 Ready to bake: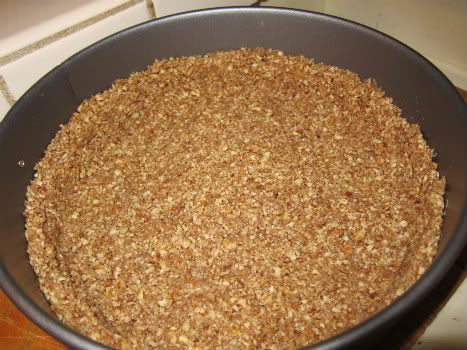 Baked (I took it out at 18 minutes because it smelled like it was burning)
Chopped the chocolate by just breaking it up while it was still in the wrappers: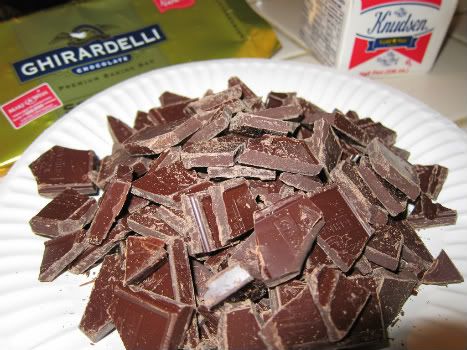 Melting the chocolate in the cream. This is where I changed it up. I added a few big drops of orange emulsion: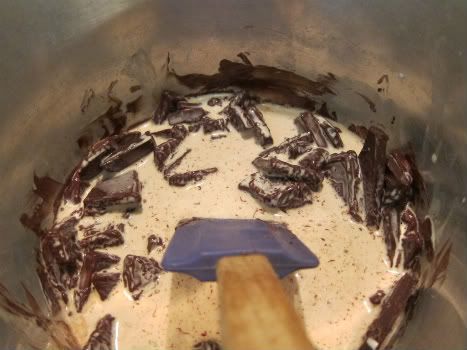 Poured into the prepared crust:
Here's where I really changed it up. I really thought the caramel would be too sweet so I decided to melt some raspberry preserves. I put in a squeeze of fresh lemon and a bit of water and cooked it until I thought it was the right consistancy:
Strained all those nasty seeds (almost all) out of the preserves which I forgot to photograph.
Topped the chocolate layer with the strained preserves: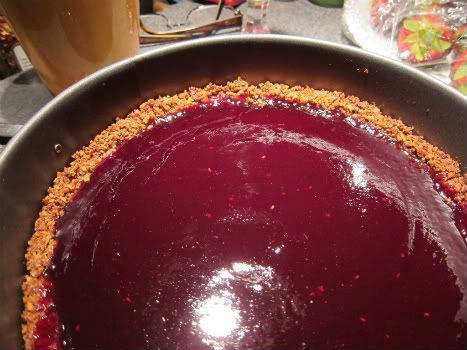 Removed and ready to serve. The topping didn't harden up like I thought it would. It wasn't real runny, but it did "relocate" in the drive to my cousin's house. The pecan sides broke in places on the top as I was running a knife around it. I just pushed them on to the top all around to give it a different look.
Sliced thin and ready to eat. This is where the runny topping proved to be a good idea.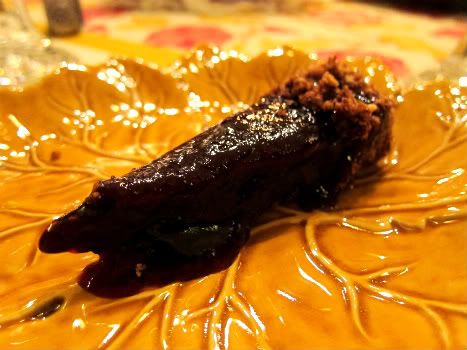 I would make this again! I think I'd add a bit more cream to the chocolate mixture to lighten it up a bit.